HOW TO BUY WITH LLOYD MEEKINS
& SONS AUCTION COMPANY
1. TO BID IN PERSON
Complete a buyer registration form in order to bid on equipment. You must provide valid photo identification such as: Driver's License, Passport, Photo ID, etc.
PAYMENT OPTIONS:
Cash (U.S. currency)
Certified cashier's check made payable to Lloyd Meekins & Sons Auction Company
Bank letter of guarantee addressed to Lloyd Meekins & Sons Auction Company (view a sample letter).
Wire transfers please call Debra Meekins at (910) 258-1705.
2. PLACING AN ABSENTEE BID
Follow the same registration procedure as if you were bidding in person. You must fax our office a valid identification. (910) 738-1389. List the particular items you are interested in placing a bid on.
HOW TO SELL WITH LLOYD MEEKINS & SONS AUCTION COMPANY (CONSIGNOR INFORMATION)
There are two main principles that Lloyd Meekins and Sons Auction Company believes in when it comes to dealing with our customers:: Loyalty and Dedication. We have been in the auction business for over 35 years and we understand that to have success as a business, you must listen to your customer. Our auction company wants to know you for your business. More importantly, we want to know you as a person.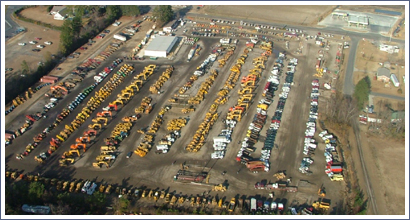 THERE IS A DIFFERENCE!
BUY and SELL with Lloyd Meekins
& Sons Auction Company today.
For your equipment selling needs, contact us by calling
(910) 739-0547 or e-mail mickey@meekinsauction.com.
If you are interested in selling your equipment, Lloyd Meekins & Sons Auction Company offers a variety of options:
Straight commission (variable scales)
Purchase (outright purchase of your equipment)
Net guarantee
Off-site auctions